We have been planning a makeover of our top patio and with the new conservatory work nearing completion we need to think ahead. The area will have new planting, paving and fences so the furniture also needs to tie in with the new looks to the house and garden.
Garden furniture says a lot about the garden and we will have to live with the choice for quite some time so have been giving the selection quite a lot of thought.
I think we have finally made my mind up, following a couple of hours going through gardening magazines and searching on line. I must have looked at literally hundreds of different styles and colours, from the very modern and brightly coloured to much more traditional and even quite retro or old fashioned.
So... what were they key choices...
Metal
Metal garden furniture often has either an old fashioned Victorian feel or quite a bistro feel. Many of the modern bistro sets which sometimes have wooden seats as well as metal framed, I dont really like sitting on metal furniture on a hot day, especially if you are only wearing shorts!! Then of course there is the very modern metal ones, although these often have a price tag to match the great style.
Too old fashioned for me, but a great style for a Victorian theme.
I do like this style, but always find i get hot or cold legs when you sit on the metal seat. You can get this style with wooden seats which I prefer.
Quite a modern take on the bistro set, metal and wood. very summery!
Wicker
The vast majority of rattan or wicker garden furniture is not actually made from Rattan or wicker any more. Rattan is a natural product from a type of palm grown in the topics and Wicker is the act of weaving furniture often from wood or another natural product. Both are reasonably long lasting, but would not take well to continuous exposure to the British climate. Instead Rattan or Wicker style garden furniture is usually made in the same style from a plastic based alternative. This wont get affected the same way as a natural product would in the rain and winter period and lasts a lot longer and keeps its colour far better too!
I love the Wicker style, there can be quite a lot of variety from quite traditional Victorian conservatory furniture styles to very contemporary and modern looks.
Modern style Wicker furniture
Wooden
Hard wood furniture has had a big rise in popularity over the past few years as people moved away from the plastic sets of the 80s and 90s. There is a huge range of styles, designs and prices to meet most peoples budgets. Wooden furniture should be regularly treated, either with a specialist wood oil or varnish from time to time to keep it at its best.
Traditional wooden garden set - perhaps more at home in a pub garden, not for me this style
Very stylish, this teak set looks amazing, although the price matches fantastic looks.
Fairly traditional and typical wooden patio set, you can get similar in most garden centres.
Plastic
Plastic furniture doesn't have to be the uninspiring cheap white chairs and tables from the past there are so many funky colours and styles available.
Simple and inexpensive but not for me!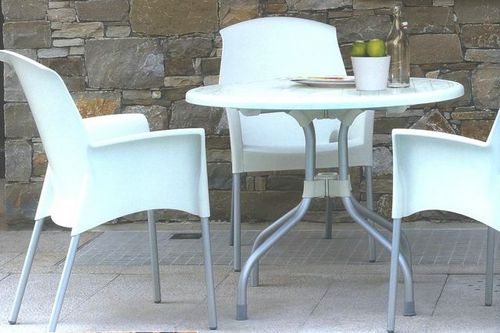 Stylish Plastic furniture
How cool is this, bright colours and amazing shapes make plastic such a great material for garden furniture
With so many styles and shops to choose from it can be quite overwhelming when making a choice, after all you will have your furniture for a good number of years to come so you dont want to get it wrong.
I won't reveal which one I opted for but will share photos of the completed patio once it is done!